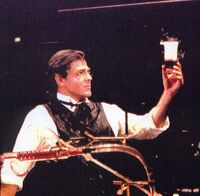 In 1986 At the University of Southern California Frank Wildhorn, Steve Cuden, and Chuck Wagner began work on creating a musical based on Robert Louis Stevenson's gothic novel The Strange Case of Dr. Jekyll And Mr. Hyde. Wildhorn was to write the score, Cuden the lyrics, & Wagner to star as the tittle role. They arranged a small production at the university, and made a studio recording of ten of the songs from the show. After several rewrites and the addition of Leslie Briscusse as the new primary lyricist, they the following year recording the 1987 Demo.
1. The Ballad of Dr. Jekyll & Mr. Hyde
2. The Engagement Party
3. The First Time
4. Find My Way Again
5. Alive
6. If She/He Only Knew
7. Murder, Murder
8. Letting Go
9. Waiting There Tonight
10. 'Til Forever
Cast Album Collector listing Dr. Jekyll And Mr. Hyde 1986 Demo
Community content is available under
CC-BY-SA
unless otherwise noted.