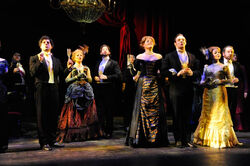 Bitch, Bitch, Bitch is a song that was written for the 1994 Complete Works Gothic Musical Thriller album, replacing Sir Danvers, serving as an introduction to the snide Governors.
It is performed by the "vicious party guests" at Jekyll and Lisa's engagement party, and was later dropped, though the instrumental portion remains during the party scene in the Broadway version.
Differences between versions
[
edit
|
edit source
]
During the 2nd UK Tour, the choruses were split up by spoken sections between the Governors, Mr Utterson and Sir Danvers Carew. The final verse also had minor changes.
LADY BEACONSFIELD
Lord and Lady Hare
Fighting over there.
Darling, do beware!
She's a bitch!

LORD SAVAGE
Lady Aberdare's
Having an affair
With the butler there!
Just her niche!

VICIOUS PARTY GUESTS
Fine party - divine party
A touch tarty - but stinkin' rich!

LADY BEACONSFIELD
What a pretty smile!
Mrs. Grenville - Heath!
Pity they are not all her teeth...

LORD SAVAGE
Lord Devere as well
He's as queer as hell!
And bi-sexuelle!
Likes to switch!

ALL
Dee-licious - and so vicious!
Our one wish is to
Bitch, bitch, bitch!

BUTLER
Lady Postlethwaite

LADY BEACONSFIELD
God, she's put on weight!
LORD SAVAGE
Gives you more to hate!

LADY BEACONSFIELD
Mean old bitch!

BUTLER
Lady Leopold

LORD SAVAGE
Looking really old!

LADY BEACONSFIELD
Poor Sir Leopold

LORD SAVAGE
She's a witch!

ALL
Chic people - unique people
And freak people we quickly ditch!

BUTLER
Lady Delaware

LADY BEACONSFIELD
Awful color hair!
That's her lover there
With the twitch!

BUTLER
Lord and Lady Biggs

LORD SAVAGE
What a pair of pigs!
Wear each other's wigs!

LORD SAVAGE & LADY BEACONSFIELD
Itch! Itch! Itch!

ALL
June wedding
The bride dreading
The leg-spreading
While London's rich
Come here and Bitch!...Bitch!...Bitch!
Bitch!...Bitch!...Bitch!

Community content is available under
CC-BY-SA
unless otherwise noted.