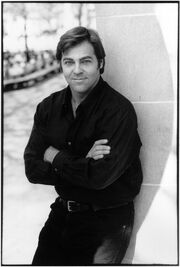 Chuck Wagner originated the title roles in Frank Wildhorn's Jekyll & Hyde. He sang the lead on the 1986 Demo and the 1987 Demo. In 1990 he starred in the World Premier performance at The Alley Theater in Houston, Texas. The strapping 6'4" actor reprised the roles in the 1999 National Tour.
His other collaborations with Frank Wildhorn' predated "Jekyll & Hyde." At the University of Southern California. Wagner overheard a discussion in the theater department. "We need someone tall who can sing!" said a voice from  within an office. Wagner stuck his head in and said, "I can sing." The voice belonged to Frank Wildhorn and Wagner was cast in the title role in the world premiere of Frank and Steve Cuden's first musical Christopher.
Chuck Wagner has since collaborated with Frank Wildhorn on his other musicals. These include Svengali(Playing the title role in both the world premiere and Sarasota productions), The Scarlet Pimpernel(Playing the title role in the 1992 Concept Album and 1996 Pre-Broadway Demo Album), The Civil War(Being part of the "Broadway All-Stars" in the 1996 Concept Album), and Dracula(Playing Van Helsing on the 2000 Demo Album, and being a standby for Dracula, Van Helsing, and Quincey Morris in the Broadway production).
Wagner recorded versions of Take Me As I Am, This is the Moment, I Need to Know and Dangerous Game on his own solo album
Community content is available under
CC-BY-SA
unless otherwise noted.