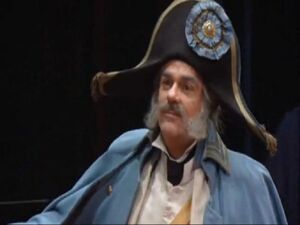 General Lord George Glossop is an old fashioned Army General with dated ideas on discipline. He was injured in the line of duty and walks with the aide of two ivory crutches. Being one of the board members at St Jude's Hospital, he dismisses Jekyll's theories as potentially mutinous but nonetheless attends his engagement party to Miss Carew, where he shares in his fellows pithy comments amount the fellow guests. Glossop's attitude towards Jekyll reflect those of the military gentry at the time, he fears that the Doctor's experiments are more suited to the Dark Continent.
At the funeral of the Bishop Of Basingstoke, Glossop shares a joke about the deceased with Lord Savage, both of whom were aware of the Bishop's fondness for choirboys and young girls. (In the Broadway version, they actually mourn the loss of an "irreplaceable" colleague.) The moment of merriment (or sorrow, depending on which version) is interrupted when he is stabbed by Edward Hyde on the Cathedral steps. [In the Bremen production, he is impaled by his own sword within the Cathderal. In the Russian production, Glossip stays behind to light a candle for the departed Bishop and Hyde, who impersonates an army officer, kills him before walking away without suspicion.]
Notable Actors who Played the Role
[
edit
|
edit source
]
Community content is available under
CC-BY-SA
unless otherwise noted.