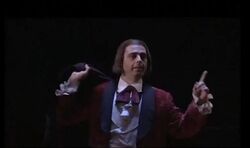 Sir Archibald Proops, QC (Queen's Counsel), nicknamed "Archie", is a lawyer on the Board of Governors at St. Jude's Hospital. A busy man, "quick and methodical," he equates everything to its relevance to the law. He would be the guiding force on the Board of Governors in terms of what is lawful, so would be quick to quash anything that he deemed ill advised. Although medical testing on humans was not illegal at the time, it could bring down trouble from the law front on the hospital, so thus likely would become a problem to him. Therefore he objects to Dr Henry Jekyll's proposal, deeming it "extremely unsound".
Archie was present at Jekyll's engagement party, where he made snide remarks about the other guests along with his fellow Governors. He was killed along with Lady Beaconsfield when leaving the Mayfair Club, foolishly attempting to challenge Hyde.
Notable Actors Who Have Played This Role
[
edit
|
edit source
]
Community content is available under
CC-BY-SA
unless otherwise noted.